OSHC at Warwick Street Campus
Students of Warwick Street Campus are able to participate in After School Hours Care from Monday to Friday as well as Vacation Care.
At Concordia Lutheran College Warwick Street Campus OSHC, we provide your child with a safe, secure and supportive learning environment.
Our program stimulates young minds to think independently and promote their own learning. It fosters creativity, challenges thought processes, and supports cooperative learning.
We address the needs, interests and abilities of each child and recognise them as the unique individuals that they are.
For more information, please access the Warwick Street Campus OSHC Handbook.
Enrol in After School Care
Please click on each link below to complete enrolment for your child/ren:
* Please email the completed documents to: wsc.oshc@concordia.qld.edu.au
After School Care Fee Schedule
| Fee | Permanent Fee Amount | Casual Fee Amount | CCS hours submitted per session |
| --- | --- | --- | --- |
| After School Care | $35.00 | $40.00 | 3 hours |
After School Care Sample Menu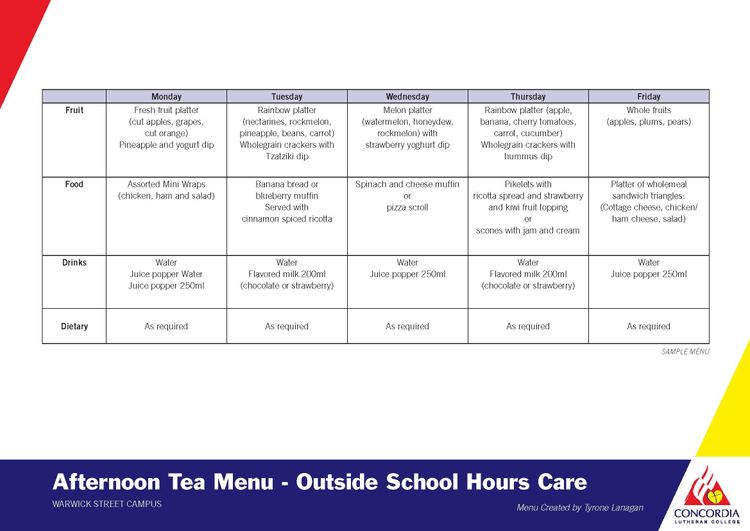 Vacation Care
Vacation Care caters to not only the children of Concordia Lutheran College but also to those for the wider community. Children attend Vacation Care from many varied schools around Toowoomba.
Vacation Care operates for each College holiday date and Pupil Free Day with a two-week closure over the Christmas and New Year period. The daily session operates between the hours of 6.30am and 6pm with a daily fee of $67 per child (permanent booking) or $77 per child (casual booking).
Afternoon tea is supplied.
Excursions that occur during the Vacation Care period will incur an extra cost to the families. Excursions outside of the service are compulsory with non-compulsory incursions being offered also.
The Vacation Care program is sent home to families three weeks before the upcoming break. Bookings for Vacation Care may be taken before this time however to ensure your place in the service.